Fresno-Madera K-16 Collaborative
The Fresno-Madera K-16 Collaborative is Fresno's commitment to strengthen our community by providing pathways to college and careers—for all.
The Collaborative is a signature initiative of the Governor's Council on Post-Secondary Education and Fresno DRIVE designed to systemically and sustainably close race equity gaps for the Fresno region's racially and socioeconomically diverse student population.
Our Mission
We are working to reimagine race equity and inclusion in education through dual enrollment and dual enrollment pathways leading to careers offering living wage jobs within our region. The Collaborative's intersegmental work and intended impact focuses on breaking down barriers and creating outcomes that are inclusive, equitable and prosperous for our Fresno County region's students and where ethnicity, race, place, and socioeconomic status and geographic place of residency are no longer predictors of educational and future economic attainment.
Our Goals
Over the next decade, the Collaborative will leverage existing infrastructure to increase higher education degree attainment, improve degree completion, and support residents in earning employment in higher-wage, higher-skill jobs that meet the region's economic and labor market needs. This will, in turn, improve socioeconomic mobility and lower the poverty rate.
Mapping clear pathways to successful futures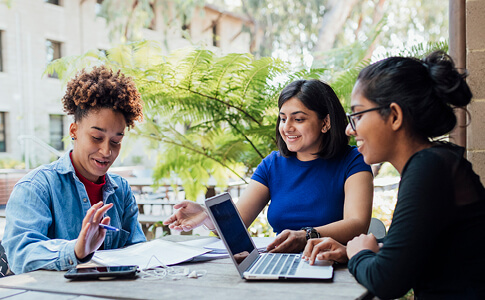 All types of learners—high school students, high school graduates, transfer students, and adult learners—are able to enter the collaborative program, which includes high-impact features such as dual enrollment, an integrated data system, student support and employer partners. The program intersegmentally encompasses multiple institutions across K–12, community colleges, and four-year institutions.
Karri Hammerstrom

Executive Director

Karri Hammerstrom

Executive Director

Driven by the need to impact students and economies through innovation and ingenuity, Karri Hammerstrom has spent the last 12 years in the educational arena helping institutions effectively implement education and workforce initiatives for student success. As the Executive Director of the Fresno K-16 Collaborative, she is actively leading this bold intersegmental collaboration whose focus is on laying the foundation with dual enrollment pathways to systemically and sustainably address equity and inclusion of our most vulnerable student populations by improving socioeconomic mobility with increased educational attainment levels; increasing employability in high-demand, living wage jobs; and lowering the poverty rate.rnrnPrior to joining the Collaborative in July 2020, Karri served as the Regional Chair of the Central/Mother Lode Regional Consortium (CRC) leading its 15 regional CA community colleges on behalf of the CA Community College Chancellor's Office to realize change leadership to close student success and equity gaps by ensuring colleges effectively implement education and workforce initiatives and Career Technical Education (CTE) programs in regional, priority industry sector; and managed a Strong Workforce regional investment portfolio of over $85M for the CRC colleges and K-12s. She also previously served as Reedley College CTE faculty managing their U.S. Department of Labor grant funded Trade Adjustment Assistance Community College u0026amp; Career Training program which was part of a 11-CA community college collaborative effort to prepare students to be career-ready employees in the areas of agriculture and manufacturing, alternative fuels/renewable energy, and health; taught classes on career preparation and leadership in the agriculture industry; managed an USDA-HSI grant funded program designed to promote equity leadership and interest in the agriculture sector for high school students; and was a 2014 USDA E. Kika De La Garza Fellow. Karri holds a Master's of Public Administration from California State University, Fresno with Honors, and a Bachelor's of Science degree in City and Regional Planning with a Minor in Agribusiness from California Polytechnic State University, San Luis Obispo. She lives and farms in CA's Central San Joaquin Valley with her husband and their two children.

Samantha Lambert

Administrative Support Coordinator

Samantha Lambert

Administrative Support Coordinator

u003cspan style=u0022font-weight: 400;u0022u003eAs the Administrative Support Coordinator, Sam provides administrative support to the Collaborative and is responsible for Collaborative meeting scheduling, event logistics, budget management, and day to day office operations.u003c/spanu003ernrnu003cspan style=u0022font-weight: 400;u0022u003ePrior to the Collaborative in September 2020, Sam was an Administrative Analyst for the Kremen School of Education of Human Development at California State University, Fresno.  She holds a B.S. in Business Administration, with a Human Resources Management option. u003c/spanu003ernrnu003cspan style=u0022font-weight: 400;u0022u003eSam lives in Fresno, CA where she raises her four daughters who keep her extremely busy.  u003c/spanu003e

Lauren Flores

Program Coordinator Analyst

Lauren Flores

Program Coordinator Analyst

u003cspan style=u0022font-weight: 400;u0022u003eLauren Flores (she / her) is a Gallup-Certified Strengths Coach whose service-oriented professional experience has been dedicated to providing empathetic and solution-focused guidance to diverse undergraduate students as they navigate the complexities of higher educational systems. u003c/spanu003eu003cspan style=u0022font-weight: 400;u0022u003eShe lives in Sanger, where she attended through high school, with her husband and their two cats and they look forward to establishing their roots closer to both of their families.u003c/spanu003ernrnu003cspan style=u0022font-weight: 400;u0022u003eLauren wasu003c/spanu003eu003cspan style=u0022font-weight: 400;u0022u003e a Regents Scholar, a member of the College of Letters and Science Honors Program, and inducted into Phi Beta Kappa at UC Santa Barbara where she graduated with High Honors earning a B.A. in Psychology with two minors in Classics and Education (Applied Psychology track). Sheu003c/spanu003eu003cspan style=u0022font-weight: 400;u0022u003e then obtained her u003c/spanu003eu003cspan style=u0022font-weight: 400;u0022u003eM.S. in Counseling, option Student Affairs and College Counseling, at Fresno State while also working as a Graduate Assistant in the Student Involvement Center to support recognized student organizations, Greek Life, campus events, and leadership programming. As a first-year Orientation Leader she was selected by the team to receive the u0022Most Inspirationalu0022 award and then subsequently served as the Graduate Student Coordinator before being hired full-time as the Assistant Coordinator of Dog Days: New Student Orientation and an Academic Counselor in the University Advising Center at Fresno State. u003c/spanu003ernrnu003cspan style=u0022font-weight: 400;u0022u003eLauren continued her career at UC Santa Barbara as an Academic Advisor before holding multiple positions at San Jose State University including an Academic Advisor in the CHHS Student Success Center, the Graduation u0026amp; Data Specialist in the Hu0026amp;A Student Success Center, and the Guardian Scholars Program Coordinator within the Educational Opportunity Program (EOP), where she provided direct guidance to first-generation college students with lived experiences as current or former foster youth, wards of the court, unaccompanied homeless youth, and youth under legal guardianship. Lauren was thrilled to return home to join the Collaborative team to leverage her skills and experiences to support Central Valley students in accessing transformative educational experiences with holistic support to ensure their personal, professional, and academic progress and success from high school to college and beyond. u003c/spanu003e
FRESNO-MADERA HIGHER ED FOR ALL
Have questions about the Collaborative? Get in touch with us today.
Contact Us