The University of Massachusetts Global (UMass Global) has been active in participating in the Accounting Pathway Working Groups and meeting with Collaborative partners to strengthen and establish intersegmental partnerships. UMASS has been working to offer dual enrollment opportunities for upskilling to both adult learners and high school students.
PROJECT AWARD TITLE: Accounting and Financial Management – Adult Learners and Dual Enrollment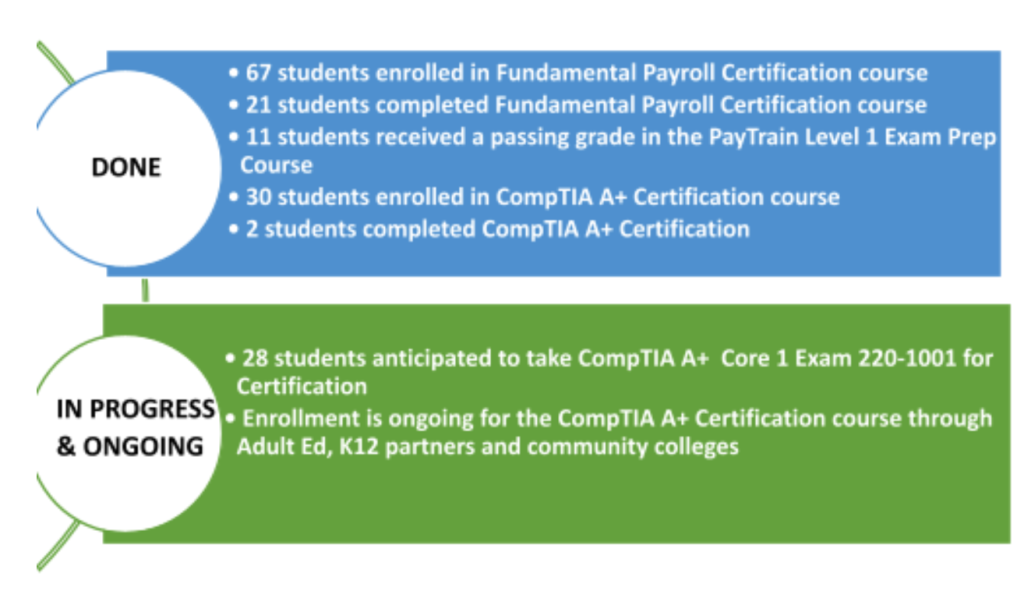 UMASS with the Collaborative partners has been executing their proposal to support collaborative, intersegmental work directed at supporting adult learners, high school, and community college students obtaining education through Fresno K-16 Collaborative's pilot pathway to increase employability, educational attainment, and socioeconomic mobility; as well as promoting prior learning assessment/credit (PLA/CPL) to recognize previously acquired education or vocational experiences.
UMASS's proposal supported both adult learners and dual enrollment/dual credit students in collaboration with State Center, Fresno City College (FCC), local school districts and others.
Adult Learning:
The region's vision is to intersegmentally provide adult learners with the skills needed for employment, continuing education, career advancement and personal growth. The Fresno K16 Collaborative, along with community partners, directed efforts to strengthen adult education and ensure students have access to high quality programs leading to their success in college and careers.
UMASS provided certification test preparation and test opportunities which provided demonstration of entry-level and next point career path knowledge mastery. The American Payroll Association's Fundamental Payroll Certification is recognized in the payroll industry as a demonstration of the entry level skills required for payroll servicing career paths. It is also recognized by the American Council on Education and many universities as academic credit applicable to degree or credential completion. UMASS offered fully online, instructor supported instruction as dual enrollment and provided dual credit, general college credit, and certification preparation. Timing was aligned with the APA testing schedule. UMASS also concurrently provided two cohorts of CompTIA A+ preparation and test opportunities yielding entry-level knowledge as recognized by the IT industry. Additional certifications may be added following outreach and survey efforts.
UMASS participated in the Collaborative's Adult Learners Working Group . UMASS further worked with the State Center Adult Education Consortium (SCAEC) to provide education and training coaching and advising, articulation pathways from Adult Education members through and to undergraduate degrees, certificates and certifications, and assist in outreach to the supported communities in order to provide awareness of the resources available.
Dual Enrollment:
UMASS, working collaboratively with Fresno City College (FCC) and Collaborative high school districts, provided APA's Fundamental Payroll Certification to Spring and Fall 2021 cohorts working through the FCC Accounting Pathway. They provided preparation courses and certification exam opportunities. Description of the courses, timing and credit opportunities are noted in the adult learner project description above. Recognizing that high school students need different wraparound support than adult learners, the high school students remained in their own cohorts allowing for additional coordination of payroll curriculum and the FCC bookkeeper certificate accounting curriculum.
Through the certification opportunity, UMASS assisted the Collaborative in addressing the large equity gaps facing minority students. Providing the entry-level certification addresses employability of students through demonstrable industry recognized knowledge. Attaining academic credit through these opportunities, students earned credit usable toward high school and college degree completion, both requirements to advance along several career paths. Including employer partners and various associations as partner advisors on program outcomes further aligns education opportunities with employer needs, providing employers with talent pools for hire.
Accounting & Financial Management Pathway
Overview: UMASS prepared Adult Education learners and Dual Enrollment students to sit for the American Payroll Association's (APA) Fundamental Payroll Certification (FPC) exam to support the Collaborative's Accounting & Financial Management pathway. In addition to the exam prep course, students received course materials and an exam voucher.
10-week Summer 2021 Program

In order to prepare students to test in the next available testing window through the APA, UMASS offered ORGU 0013, PayTrain Level 1 over the summer. This 10-week, online course was originally offered on Wednesdays with a two-hour virtual session from 6:30-8:30 p.m. each week. Due to increased demand, UMASS added a Thursday class option as well. The program ran from June 16-August 18 on Wednesdays and June 17-August 19 on Thursdays.
Partner-specific flyers were created for:

Adult Ed
FCC Dual Enrollment students
Colleges

Clovis Community College
Fresno City College
Fresno Pacific University
Fresno State
Reedley College

High Schools

Central Unified School District
Clovis Unified School District
Fresno Unified School District
Sanger Unified School District

To further support student success, they held "Zero Week" June 7-16. During Zero Week, coordinators from UMASS scheduled 30-minute one-on-one virtual meetings with students to achieve the following:

Activate their UMASS account
Log in to their UMASS email
Access the learning management system
Confirm they've received the course materials

The student activation sessions ensured that all students can access the course technologies so they are prepared to start their course on day one.
PayTrain Level 1 materials were ordered for all students that scheduled an activation session.

Student Outcomes

Students needed to score a 75% or above on their post-test to pass the class. Eleven out of sixty-seven, or 16% of students, received a passing grade in the PayTrain Level 1 Exam Prep Course.
Like many math-based areas of study, content builds on previous information. Students who consistently attended class and completed weekly assignments were those that passed the class. Despite weekly emails from the instructor as well as individual outreach, many students did not persist.
Reasons given include:

Registered for the class because it's free but it's too hard
Taking multiple courses with Collaborative partners and workload is too much
Work/family commitments
I thought I would be able to handle work, classes and the training but it was too much for me.
I have a lot on my plate right now and it's been hard to focus on the lectures and assignments.
Unable to attend last few classes due to change in jobs and the schedule his has completely changed
Family emergency
Fundamental Payroll Certification (Adult Learner)
Metrics: 67 students enrolled
Wednesday Course: 32 enrolled
31% (10 of 32) completed course
19% (6 achieved passing score)
Thursday Course: 35 enrolled
31% (11 of 35) completed course
14% (5 achieved passing score)
Fundamental Payroll Certification (dual enrollment/dual credit-FCC)
Student Demographics:
Adult School: 24 students
Colleges: 41 students (dual enrolled)
High School: 2 students (Fresno Unified)
Summer session was minimal dual enrollment due to K12 summer break.
FCC Dual Enrollment flyer was created, but students in their Summer Bootcamp did not enroll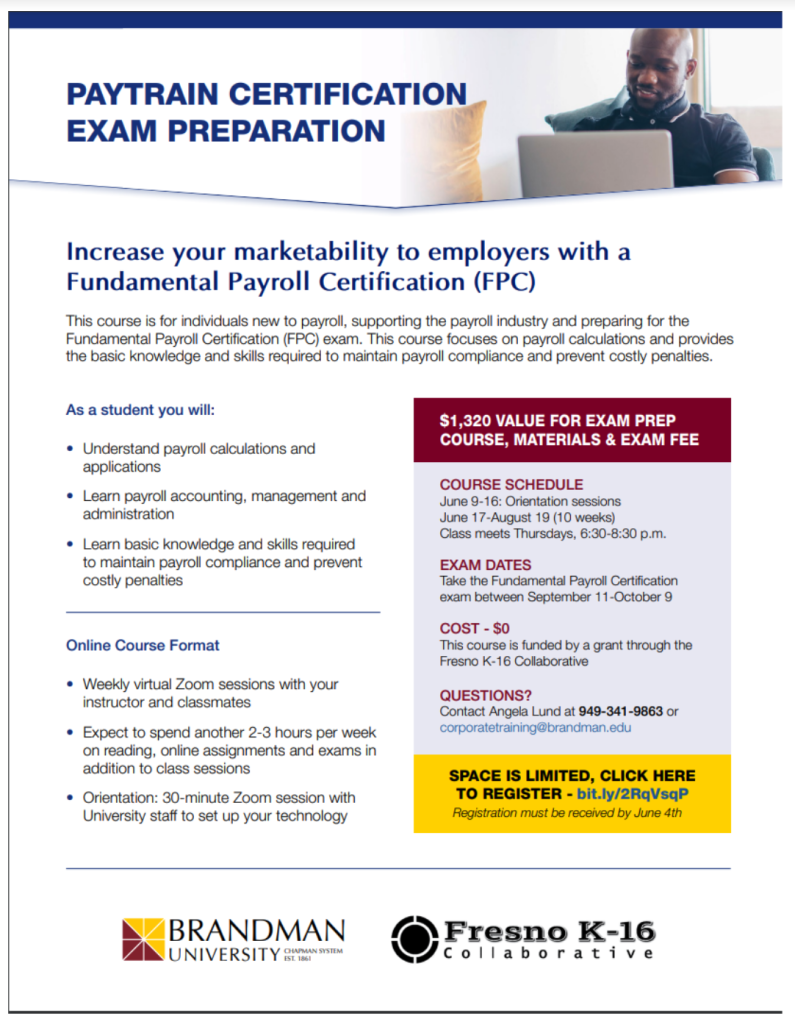 20-week Fall 2021/Winter 2022 Program

UMASS was planning to offer a 20-week program over the fall and winter to prepare students to test in the spring of 2022. Since this program will take place during the school year, UMASS wanted to modify the pacing of ORGU 0013 from 10 weeks to 20 week to allow students, especially dual enrollment students, more time to learn and synthesize the content.
The tentative schedule for this 20-week, online course is October 2021 to March 2022. The first 10 weeks will run October-December 2021. They will break for the holidays and then continue with the remaining 10 weeks of the course from January-March 2022. The instructor will offer a 1-hour virtual session each week. Exact program dates and the day and time of the weekly synchronous session is still TBD. This program would also include individual activation sessions during Zero Week.
This schedule was developed to meet the needs of the Career Technical Education (CTE) at Clovis Unified, however after reevaluating their students' normal school work loads, working in the bank, and any extra-curricular activities, Clovis has opted out of offering the Fundamental Payroll Certification for their students as it could not be articulated into their Get Focus Stay Focussed course as initially thought possible.
Fresno Community College (FCC)

After meeting multiple times with Robert Pimetal, Dr. Tim Woods and Dr. Richard Tuttrup from FCC, UMASS anticipated that some of their Bookkeeping Fundamentals Certificate and Dual Enrollment students from Fresno Unified would register in the summer payroll course. They scheduled the PayTrain Level 1 course immediately following the boot camp and hosting Zero Week during boot camp.
Of the sixty-seven students enrolled, only four self-identified as FCC students and two self-identified as Fresno Unified students.
Overview: UMASS is preparing Adult Education learners and Dual Enrollment students to sit for the CompTIA A+ Core 1 Exam 220-1001 and Core 2 Exam 220-1002.
CompTIA A+ Course Structure

The CompTIA A+ courses are provided on their competency-based, self-paced platform. Students learn content, submit milestone assignments, and receive feedback from their instructor. Students move through the course in this fashion until they have completed all the content.
Students have six months to complete their content and sit for the associated exam. Once a student completes the course content they are issued a voucher to take the exam. Passing the exam is also the final exam in the course. Once students complete and pass CompTIA A+ 1 they will be enrolled in CompTIA A+ 2.
Due to the self-paced structure of the course, enrollment is ongoing.

Partner-specific flyers were created for:

Adult Ed
Edison High School (Fresno Unified)
Colleges

Clovis Community College
Fresno City College
Fresno State
Reedley College

High Schools

Central Unified School District
Clovis Unified School District
Fresno Unified School District
Sanger Unified School District
Edison High School – After receiving the course flyer, Troy Odell, the CTE Pathway Coordinator from Edison High School reached out regarding the students in their computer science program. They met with Troy and the two computer science teachers regarding the CompTIA A+ courses. They wanted to provide this opportunity to students over the summer and also plan to offer it as an afterschool club in the Fall. UMASS provided them with an Edison High School specific flyer. Fourteen students registered for the course in May. So far one of the Edison High School students has completed all the course content and is ready to sit for the exam. We expect more students to enroll this Fall.
Student Outcomes

Students are 50% through their 6-month access. Emails are sent every two weeks to encourage students to complete milestone activities and make progress through the content.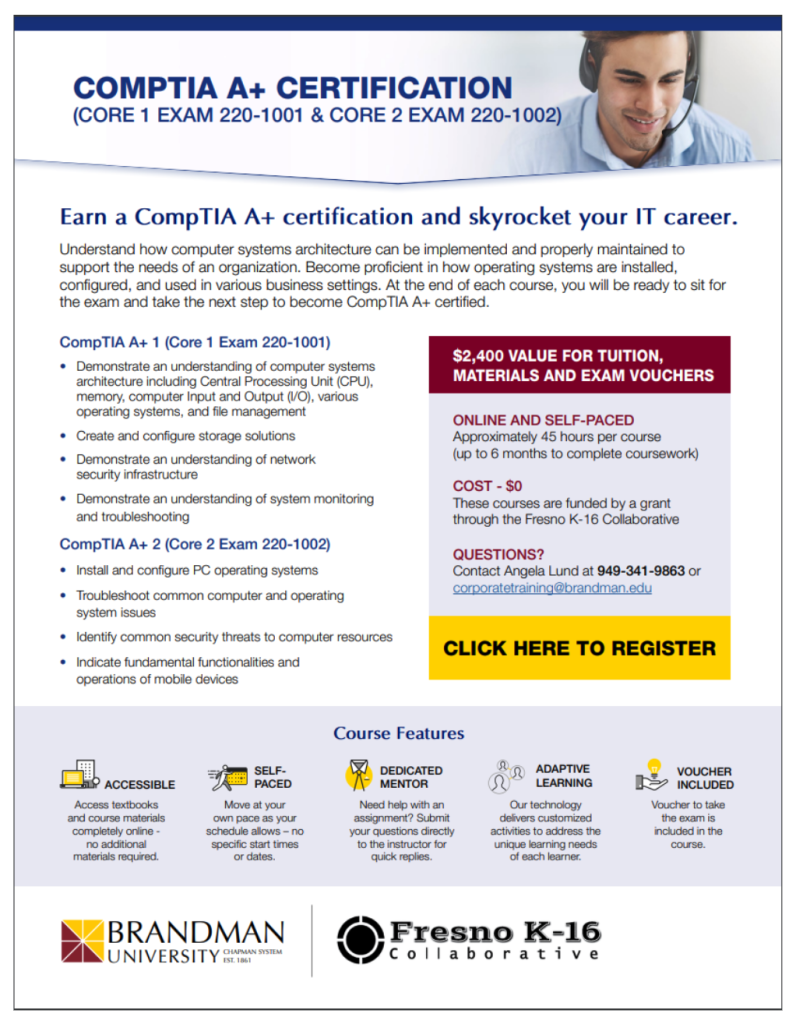 CompTIA A+ certification (Adult Learner)
Course Dates: 6 months access
Students enrolled in mid-May-June and currently 50% through their access period.
Metrics: 30 students enrolled
To date, 2 students have completed the course content and are ready to take the Core 1 Exam 220-1001.
Student Demographics:
Adult School: 16 students
Colleges: 0 students
High School: 14 students (Fresno Unified – Edison High School)